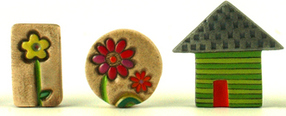 FAQ
Do you sell Online?
Yes!
​You can find a great selection of my work on my
Etsy
shop.
https://www.etsy.com/shop/cavaticadesigns
What Does Cavatica Mean?
Technically, Cavatica is a kind of barn spider but for me she is a beloved character from one of my favorite books, Charlotte's Web. When coming up with my company name, I felt like this fit perfectly for many reasons. It's also been quite interesting to hear how my customers feel the name relates to my work. Overall, it makes people happy and that's what I was going for.
Is your work durable, what materials do you use?
YES! The cord I use is a very durable nylon and is typically used for stringing pearls. It has a delicate look but is very strong. My pedants are ceramic and with normal wear and responsible care they will be just fine. I have many customers who have owned my work for several years that often tell me they are pleased with the lasting quality. However, if you do have a problem please email me.
Do you wholesale?
Thank you for your interest but wholesale is not a good options for me. However, on occasion I will do consignment for special events and holidays if the venue is a good fit for me.
Do you do special orders?
I always do my best to accommodate special requests. If you are familiar with my designs and have something in mind please feel free to email me and we can talk about it. I like to keep special orders to a minimum of at least three pieces and my production time is at least three weeks and varies depending on my show and studio schedule.
CONTACT ME:
cavatica.designs@gmail.com