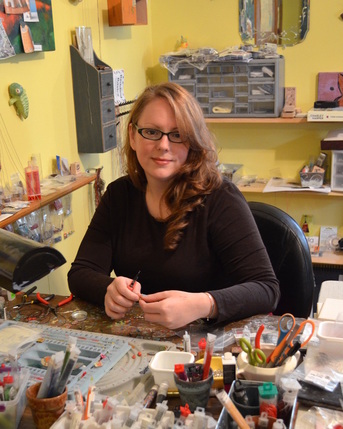 Courtney DeYoung/Cavatica Designs

About Cavatica Designs:
I have always enjoyed creating in a variety of mediums. My design technique allows me to incorporate drawing, painting, sculpture and more into my jewelry. I enjoy using clay to create a surface for my designs that works well for delicate detail. I often use inspiration from nature and organic shapes for my designs. After firing, I begin with my favorite part of the process, painting. I'm always looking for unique color inspiration. Once I have selected a palette, I paint each piece using a thin layering technique to create a vibrant finish. Jewelry design gives me the creative outlet I desire. I also enjoy the affirmation each time someone views my work with the appreciation of its aesthetic and craftsmanship.

"Terrific, Radiant, Humble"

About Courtney DeYoung:
I grew up on a large hog farm in the middle of nowhere Indiana. It was a unique and interesting childhood to say the least. I was very creative as a child and decided to pursue a career as an artist at a young age. As a high school junior, I was accepted to an early college Summer program at The Art Institute of Chicago. My senior year of high school, I received a National Scholastic Award for my portfolio and was awarded a college scholarship. I attended Columbus College of Art and Design and earned a BFA. After college I began a rewarding career working with adults with developmental disabilities. After years working in this field, I created Open Door Art Studio, an accessible art space for adult artists with disabilities. While working as the Director of Open Door, I began creating jewelry and participating in shows part time. After a few years of doing both, I decided to pursue jewelry design full time. I currently spend much of my time creating in my home studio and traveling to shows. I share my life with my husband Dennis, our wonderful son Owen and our four fabulous felines (Lilly, Fern, Wilbur and Luna).